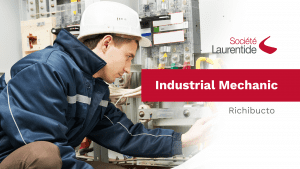 Questions? Text us 506 406-0050!
Our richibucto plant is looking for an Industrial Mechanic.
Job summary:
Install, maintain, troubleshoot, overhaul, repair and modify industrial equipment, production equipment, machine tools, or any other type of industrial equipment.
Main tasks and responsibilities:
Perform preventive maintenance on equipment;
Take charge of the mechanical issues detected;
Read plans, diagrams and schematics to confirm proper project implementation;
Monitor progress and performance against estimates; take action to resolve operational problems and minimize downtime;
Install, control, maintain, monitor, and repairs equipment;
Ensure that the work performed meets quality and performance standards;
Writing of technical intervention sheets (machine maintenance file);
Communicate the progress of work and projects to the people concerned;
Participate in the improvement of maintenance procedures;
Implementation of more efficient devices to increase the efficiency and longevity of machines;
Perform related operations (welding, milling of parts, workshop work, etc.);
Carry out all work in accordance with the instructions given by the Maintenance Project Leader or the  Design and Project Manager;
Follow all safety policies and procedures on quality, environmental, and health & safety.
Other related tasks as requested. 
Qualifications:
Education Required: Technical or College Diploma, in Mechanical;
Years of Experience Required: 2 years experience in hydraulic field;
Experience with hydraulics will be considered a strong asset;
Interests and aptitudes for problem solving and working under pressure;
Ingenuity, dynamism, resourcefulness and autonomy;
Responsible and punctual;
Excellent computer and communication skills;
Ability in IT and maintenance management software;
Read plans, diagrams and technical notices;
Strong sense of urgency in meeting deadlines.
Immediate supervisor : Maintenance Project Leader or Design and Project Manager
Salary: between 25 $/h & 33 $/h according to experience
Regular work week: Monday to Friday
* occasional Saturdays are to be expected.
* May be required to work additional hours to meet schedule requirements;
Work place:
Laurentide re/sources Atlantique
9322 Main,
Richibucto, NB
E4W 5P2
Questions? Text us 506 406-0050!
Apply today!